UV Sanitizer Box Cleaner for Cell Phone, Jewelry, Eyeglasses, Toys, Beauty Tools, Nail Salon, Keys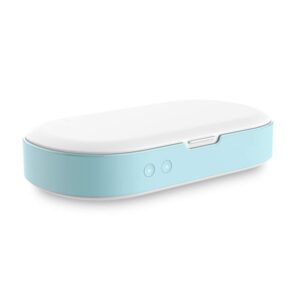 UV Sterilizer Box Without The Chemicals: Safely Clean gadgets in 6 minutes, Build-in a High UV reflection film to increase UV cover rage.

Wide Uses: fit for jewellery, eyeglasses, toothbrush, cell phones, watches, iPods, mp3 players, forks, knives, keys, bluetooth earphones, underwear, socks, baby's toys and any other small objects.

Aromatherapy function: Works as an essential oil diffuser, add your favorite aromatherapy in the sterilizer makes your items smells wonderful

Compact, Ergonomic & Portable Design: The sleek, ergonomic and compact design of our UV light Sanitizer Box makes it easy to take with you, wherever you go. Whether at work, home, traveling or in the car.

Great Present & Gift: Cool gadgets for birthday, Valentine's Day, Thanksgiving Day, Christmas, Father's Day, Mother's Day and other occasions, special gift for someone who works in health system.
How to use
1. Disinfection: press the disinfection button, UV light turns on and the buzzer rings once. After 5 minutes,the buzzer rings twice and the UV light turns off, which means disinfection is completed.
2. Fragrance: built-in fragrance box, drop some perfume into it, press the fragrance button, the buzzer rings once and the indicator lights up. After ten minutes, the buzzer rings twice and the indicator turns off, which means the fragrance is finished.
Specifications:
Inner dimension: 199 x 105 x 30 mm
Boundary dimension: 231 x 127 x 47 mm
Standard Input:DC5V--1A
Disinfection Power:1.5W
Aromatherapy Power:1W Max. power: 2W
UV wavelength: 253.7nm
Material: ABS + PMMA
Buttons: disinfection, fragrance
Net weight:300g
Gross weight:550g
Package including:
1 X UV Sterilizer Box
1 X External USB cable
1 X Cleaning Cloth
1 X User Manual
Note: Items without a build-in High UV reflection film are all fake, will not get our guarantee
Attention: If DC5V/1A is provided to the device, sterilization/aromatherapy can be used simultaneously. Input power can be be less than DC5V/1A,Otherwise the machine can not work effectively. When machine is operating, please do not open the cover, and do not exceed 4 drops of essential oil while using.
Specification:
UV Sanitizer Box Cleaner for Cell Phone, Jewelry, Eyeglasses, Toys, Beauty Tools, Nail Salon, Keys