Toothbrush Sanitizer and Holder Wall Mounted AC Plug Family Toothbrush Cleaner for Kids Women Bathroom (White)
Get more promotions and free samples ! Please follow and contact me on FB:http://facebook.com/tony.tu.2019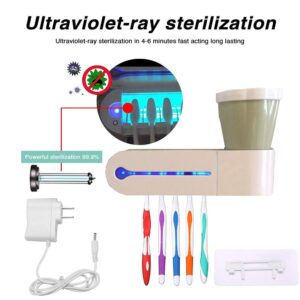 UV Toothbrush Holder: Family design can sterilize 5 toothbrushes (include electric toothbrush head) by build-in Ultraviolet light and store up to 8 toothbrushes and one Toothpaste by a holder cup.

Toothbrush Sterilizer: UV Sterilizer will keep your toothbrush clean. It has been tested and certified on claims.

Environment Friendly Material: This UV sanitizer is made of ABS material, Environment Friendly. You can feel Its silky surface and beautiful exquisite parts.

Easy Installation: No drilling design. Comes with a strong adhesive sticker for stick and two pieces re-usable adhesive for position and hold, you can stick your toothbrush sanitizer to a clean dry glass/ceramic tile, that won't damage your wall.

Cool Gadgets & Gift: Great Present for birthday, Valentine's Day, Thanksgiving Day, Christmas, Father's Day, Mother's Day and other occasions, special gift for someone who works in health system.
Specifications:
Material: Advanced ABS
Size: 200*70*130mm (L*W*H)
Lamp Life Span: >25000hrs
Disinfection rate: Up to 99.9%
Ultraviolet intensity: 1000uW/cm2
Working current: 180mA Power: 2W
Working Environment 5-50℃(41-122℉)
0.01 PPM< Ozone concentration< 0.05PPM
How to use?
- 1 Wash and clean the wall.
- 2 Heating the sticky hook with a blower.
- 3 Uncover the protective film, stick it to the wall and compact it.
- 4 Please empty the air by pushing the trigger five or six times when first use.
- 5 *Prepare the two pieces re-usable adhesive, pull and stretch until supple.
*Roll into a ball.
*Place on the wall, or on the back of two sides of the toothpaste dispenser.
(To remove this adhesive, Roll it off carefully from the surface)
- 6 After 24 hours, mount the toothbrush holder set and press firmly on two sides.
※The product must be installed on flat and smooth walls or mirrors, and ensure that walls, mirrors, and stickers are dry.
It is not much suitable to hold the electric tooth brushes. It's too heavy, the item may fall off from the wall.
If your electric toothbrush head is not very big, that can be hold only for the head.
Toothbrush disinfection method
- 1 Load toothbrushes, with bristles toward the inside.
- 2 Plug in power, press the silver button switch
- 3 Close the lid, UV light off after 5 minutes automatically
- 4 Please avoid too much water spilled into the UV lamp and avoid violent impact.
Package Included
- 1 x Automatic Toothbrush Holder Set
- 1 x Universal strong sticky hook
- 2 x Re-usable adhesive
- 1 x User Manual
Specification:
Toothbrush Sanitizer and Holder Wall Mounted AC Plug Family Toothbrush Cleaner for Kids Women Bathroom (White)