Portable Ionizer Air Purifier Mini Personal Wearable Necklace Travel USB Rechargeable Negative Ion Generator
Get it free for test feedback ! Please contact me on FB:http://facebook.com/tony.tu.2019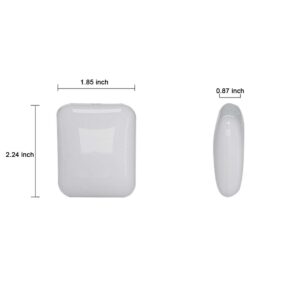 FRESH AIR - This ionic air purifier emits more than 3 millions negative ions that prevent you from dust, pollen, odor, smoke, cooking smells. Then the extra-fresh ionic booster releases millions of negative ions to purify surrounding air.
BENEFITS - Negative ions, which exist in waterfalls, forests, seashores in high concentration, has many positive effects on human's physical & mental health. Breathing in negative ions have a relaxing effect and relieve tension.
WEARABLE AIR PURIFIER - Portable wearable necklace design, you can wear it around your neck since this small air purifier comes with a necklace. Whether you're traveling by plane, train, bus or in the gym, in the crowded elevators, or in the office, you can wear it and enjoy the safe, clean air.
RECHARGEABLE & LONG STANDBY - USB rechargeable. Charge half hour can be used for about 30 hours. The perfect accessory give you protection all year round.
QUIET & SAFE - It is very quiet during operation without bother you when you working or taking a rest. Just press the button for two seconds to enjoy the fresh air.
Specifications :
Charge source : DC 5V 150mA
Charge time : about 4 hours
Working current : about 35 mA
Anion quantity : about 200-300W / cm3;
Unit size : 57x47x22mm ;
Net weight : approx. 40g ;
Battery : 3.7V / 500mAH lithium battery ;
Battery working time : about 30 hours ;
Package includes : 1 x Personal air purifier, 1 x USB charge cable, 1 x String, 1 x Instruction
Warranty: 12 months warranty plus lifetime technical support.
Notice: Please turn off when charging. If not, that's possible can't be charging again.
Due to everyone feels different, if you are not sure if it's effective on you or just dislike, please packed well and return. You will get refund.
-Why is it not working? Why I couldn't feel the air blew?
In fact, while it's turn on there is very small air flow, you almost can't feel it, but you can smell a little, because the small air flew is from the brush of the hole, the negative ions will come from that. You can feel it's working.
-Why doesn't reduce smoke or odors?
It's small and just for personal use around neck. It can't reduce most of the smoke in your area, just to reduce smoke or odors around your neck and make you feel heathy. If you want to test, you can send a little smoke in the transparent packing bag and the device will clear that.
Specification:
Portable Ionizer Air Purifier Mini Personal Wearable Necklace Travel USB Rechargeable Negative Ion Generator