Cell Phones Sterilizer Smartphone Sanitizer and Charger Cleaner for Apple Watch iPhone Samsung Galaxy Earphone Jewelry Eyeglass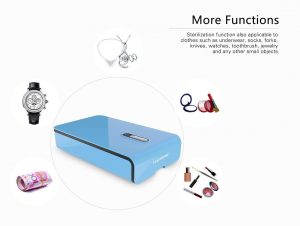 UV Sanitizer - Safely kill 99.99% of bacteria in 6 minutes, with USB port for charging all kinds of cell phone,include: iphone6 plus and galaxy note5, Huawei mate7, etc. Compatible with cell phone and Smartphone up to 7 inches

Aromatherapy function: Works as an essential oil diffuser, add your favorite aromatherapy in the phone sterilizer makes your phone smells wonderful

Sterilize & USB Charging: With built in charging port, this product can sterilize and charge the phone at the same time, no need to power off. There are two internal cables for smart phone, one for IOS and the other for Android. Upgraded: Build-in a High UV reflection film to increase UV cover rage.

Wide Uses: Not only suitable for phones, but also fit for iPods, mp3 players, watches, eyeglasses, toothbrush, jewellery, forks, knives, keys, bluetooth earphones, underwear, socks, baby's toys and any other small objects.

Great Present & Gift: Cool gadgets for birthday, Valentine's Day, Thanksgiving Day, Christmas, Father's Day, Mother's Day and other occasions, special gift for someone who works in health system.
UV light at wavelength 254nm is easily absorbed by organisms,thus to make bacteria and germs killed by damaging their DNA. This is wholly physical process,no secondary pollution occurre.
How to use
1. Disinfection: press the disinfection button, UV light turns on and the buzzer rings once. After 6 minutes,the buzzer rings twice and the UV light turns off, which means disinfection is completed.
2. Fragrance: built-in fragrance box, drop some perfume into it, press the fragrance button, the buzzer rings once and the indicator lights up. After ten minutes, the buzzer rings twice and the indicator turns off, which means the fragrance is finished.
3. Charging: built-in charging port,this product can sterilize and charge the phone at the same time, no need to power off.
Specifications:
Standard Input:DC5V--1A
Disinfection Power:2W
Aromatherapy Power:1W
Max. power: 9W
UV wavelength: 253.7nm
Material: ABS + PMMA
Indicator: disinfection(Blue), fragrance(Green)
Buttons: disinfection, fragrance
Inner dimension: 176 x 102 x 14 mm
UV light tube:2x1W
Net weight:300g
Rough weight:570g
Package including:
1 X Multi-function Phone Sterilizer
1X Internal Charging Cable Android(Not for USB type C)
1 X Internal charging cable IOS
1 X External USB cable
1 X Cleaning Cloth
1 X User Manual
Attention: If DC5V/1A is provided to the device, sterilization/aromatherapy/charging can be used simultaneously.Input power can be be less than DC5V/1A,Otherwise the machine can not work effectively. There is an attached external usb cable to charge your phone(support ios&andriod phone). When machine is operating, please do not open the cover, and do not exceed 6 drops of essential oil while using.